History of Rendezvous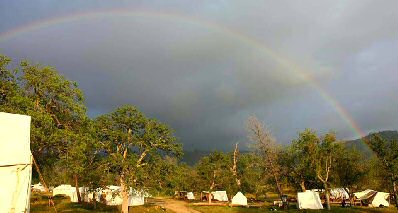 Rocky Mountain Rendezvous was an annual gathering from 1825 to 1840 at various locations started by General William Henry Ashley of the Rocky Mountain Fur Company. At these gatherings, trappers and mountain men sold their furs and hides and replenished their supplies. The large fur companies put together teamster driven mule trains which packed in whiskey and supplies into a pre-announced location each spring or summer and set up a trading fair known as the rendezvous at the season's end.
Rendezvous were known to be lively, joyous places, where all were allowed - free trappers, Indians, native trapper wives and children, travelers and later on, even tourists who would venture from as far as Europe to observe the festivities.
James Beckwourth describes: "Mirth, songs, dancing, shouting, trading, running, jumping, singing, racing, target-shooting, yarns, frolic, with all sorts of extravagances that white men or Indians could invent.
Rendezvous are still celebrated as gatherings of like-minded individuals or clubs in many walks of life. The fur trading rendezvous are celebrated by traditional black-powder rifle clubs all over the US and Canada. These gatherings range from small gatherings sponsored by local clubs to large gatherings like the Pacific Primitive Rendezvous and others. These gatherings include much of the same activities of the originals, centering on the shooting of muzzle-loaded rifles, trade guns and shotguns, the throwing of knives and tomahawks and primitive archery, as well as cooking, dancing, singing, the telling of tall tales and of past rendezvous.
About Our Rendezvous
The Paiute Mountain Rendezvous may not be quite as wild as a rendezvous of 1800s, but we do our best. Men, women and children dressed in their mountain man, Indian or even colonial outfits, gather together to do the best we can to live in the past. Primitive camps, period traders, demonstrations, competitions, music, food & drink and lots of friendly people make the Paiute Mountain Rendezvous a great place to visit.
You do not have to be a member to come and enjoy the rendezvous. Day visitors can shop, eat, try their hand at primitive skills and enjoy the beautiful mountain setting of the rendezvous. Don't forget your camera. There is a lot of interesting things to photograph. Visit our Gallery section to see photos of past rendezvous.
To camp at the rendezvous you need to camp and dress primitive. There is also a 'modern-tent-camping area', formerly called 'tin-teepee area'. See registration form for rules, regulations and costs.